Loving Purple Earrings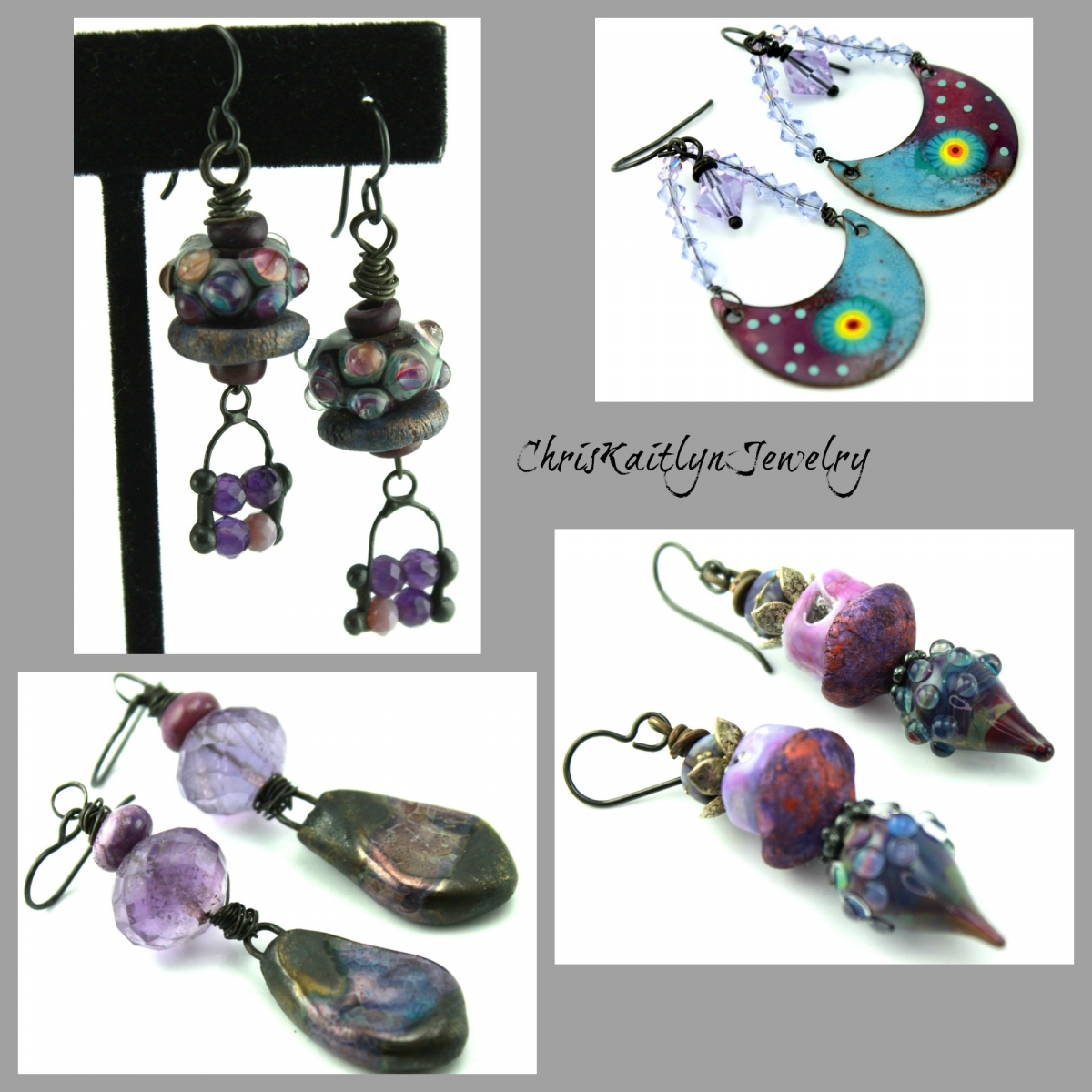 PURPLE EARRINGS, WHAT'S NOT TO LOVE!
Pantone's color of the year is Ultra Violet, a strong purple to my eyes. Pantone is a tool designers use to create collections around, such as hair colors, fashion, jewelry, furniture, and house interior colors (not my house, lol). Ulta Violet or purple will show up in all sorts of ways this next year.
On the next season of tv's Fashion Runway it will probably be a feature color in their individual or group challenges. Whether you like the color or not, it is a strong and powerful color and has been used for centuries by the rich and famous to enhance their own personal power.
Erin Prais-Hintz of Earrings Everyday selected Ultra Violet as the color or object for this month's challenge and I could not resist participating. I love working with purple and have a lovely collection of artisan elements to make fabulous purple earrings! It was a fun process to look at one's collection and make new and fresh designs. This is just a small collection of this seasons' purple earrings I have designed. Each earring is so different, showing off what colors and componenets purple plays well with. Since each artisan is a master of the element they created it is pure joy to be a designer with their creation!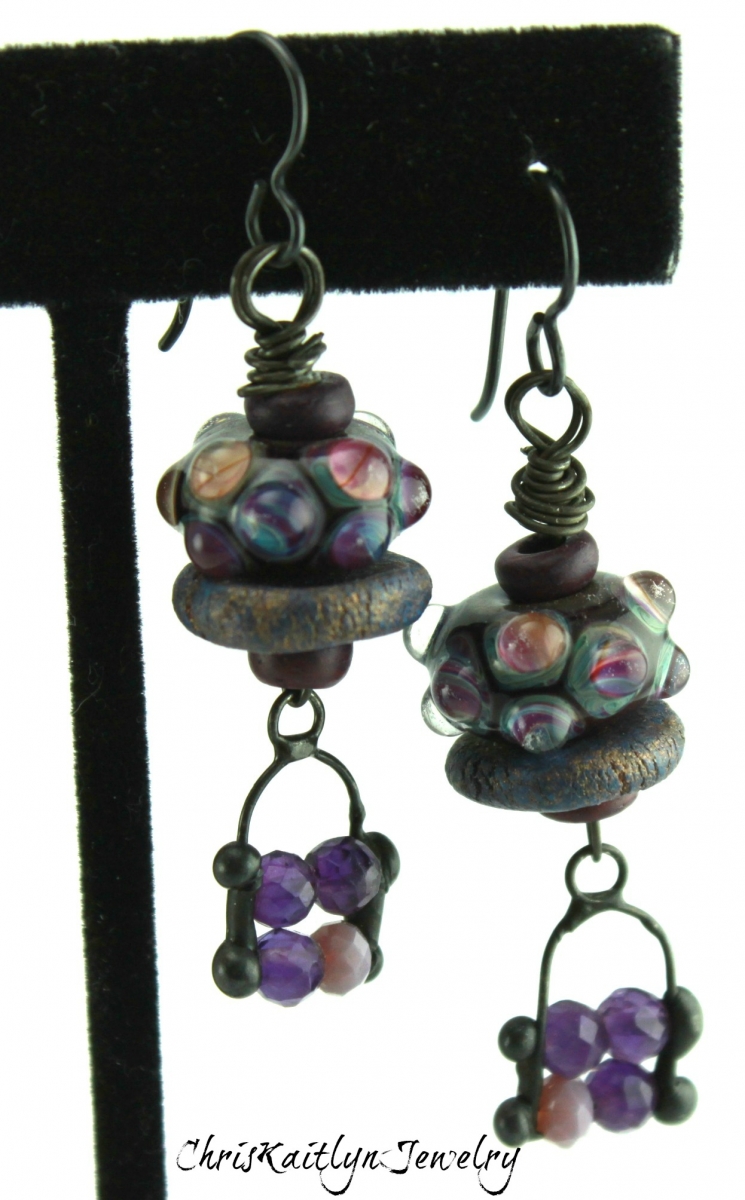 The talented metal artist Tracy DiPiazza has a shop on Etsy... Tracy DiPiazzaMetalworks. When she also had her PipnMolly shop I scooped up the bottom elements of her gemstones encased in a metal cage. They are blended with Georgia Neuman's lovely ceramic beads from her Etsy shop, At Home In Taos. Terry Turner made the gorgeous lampwork glass beads and sells her items on Etsy in her shop Silverfish Designs.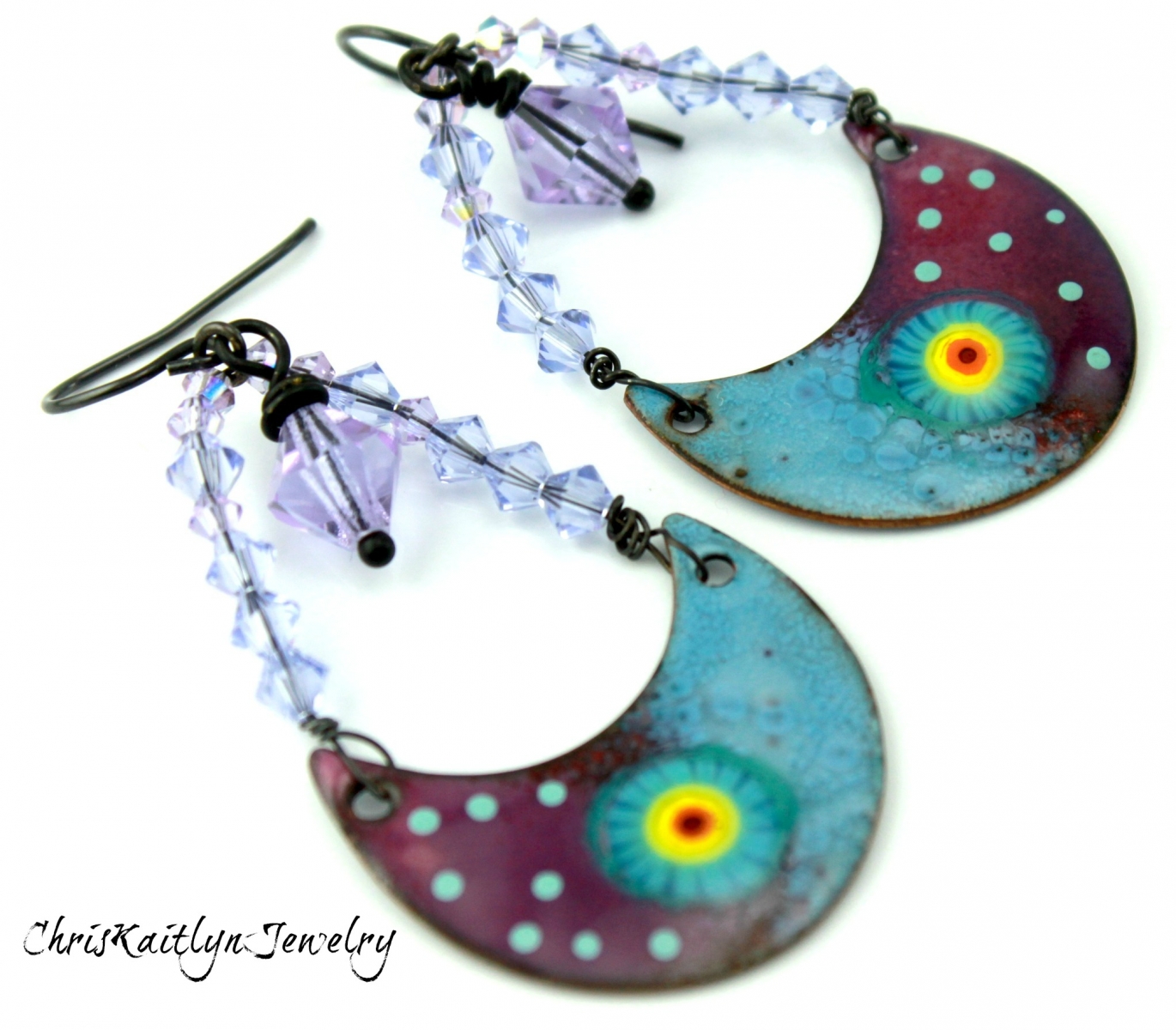 Cathleen Zaring is a prolific and fabulous vitrous enamel artist working with powdered glass, metal, and heat to created miniture paintings. Cathleen frequently has sales/auctions at Blue Hare Art Wear, her Facebook page. She also has an Etsy shop of the same name where she sometimes has her peices listed. I used lavender sparkly toned Swarovski bicone chrystals to make a wire hanger 'swing' for Cathleen's enameled pieces.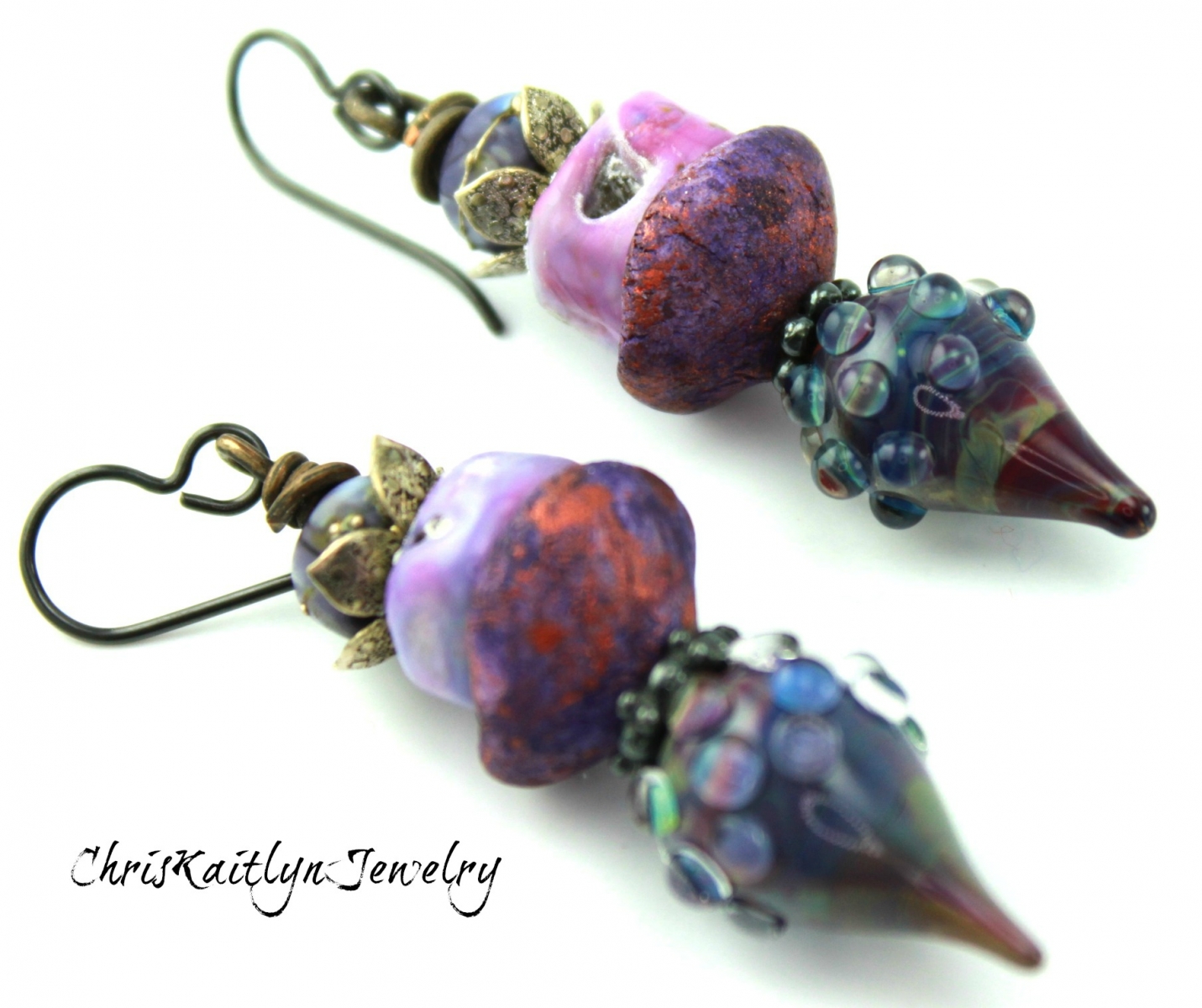 These striking earrings are comprised of six different elements, not counting the earwires. Pati Walton's lampwork glass headpins are always a treat to work with. I believe the dots of glass are Boro glass which is one of my favs as it reflects so many fun and different colors. Above Pati's work is a dark toned metal spacer, then Georgia Neuman's purple with copper highlights bowl shaped ceramic beads. Georgia has an Etsy shop, At Home In Taos, where you can find a lot of her fabulous ceramic beads to choose from. Jody Brimhall displays her work in her Etsy shop, Inspire Glass Studio, and on Facebook lampwork glass bead sale sites like Lampwork Beads for Sale. A brass bead cap and then more purple beads from my friend in Australia, Patricia Ritchie, who also sells on FB lampwork glass bead sites, round out this display of purple, copper, dark lavendar, and more purple!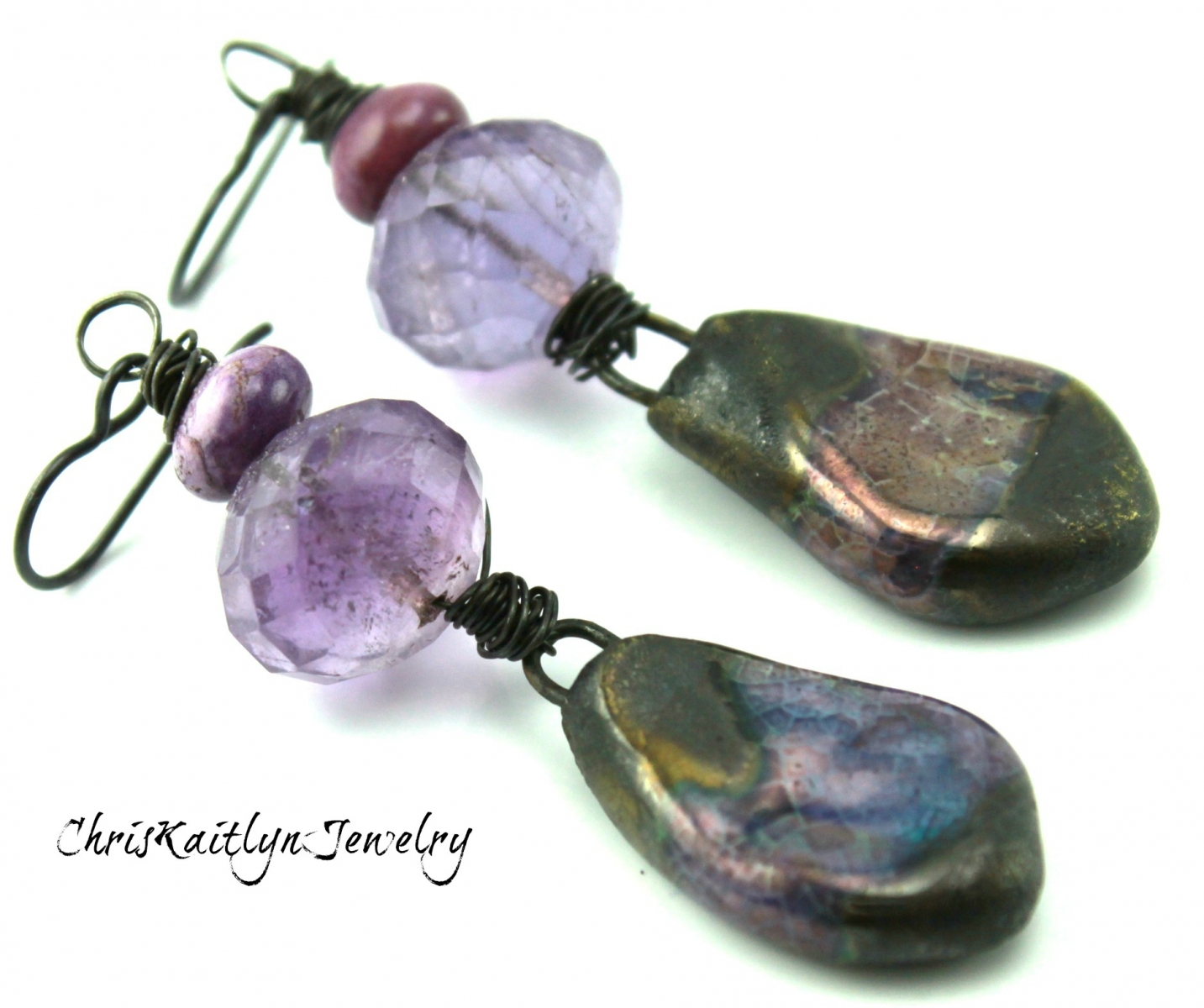 Petra Carpreau of Scorched Earth, her Etsy shop, makes these fabulous Raku Ceramic Drops along with so much more. The purple bronze raku ceramic drops hang from black annealed steel wire, my go to 'stinging' material, with some gorgeous faceted large Amethyst gesmstone beads and some lavendar purple beads.
I like blending purple elements with other shades of purple elements creating an almost painterly effect as if one is painting a canvas, but it is also fun to blend purple with blues, yellows, oranges, and especially lime green tones. I have even put purple together with rich red tones! Purple can be paired with so many colors...the sky is the limit!!!

Head on over to the Earrings Everyday blog HERE to see what Ultra Violet inspired everyone else to make!
Chris