Woven Amethyst Stones, Published in Jewelry Affaire Magazine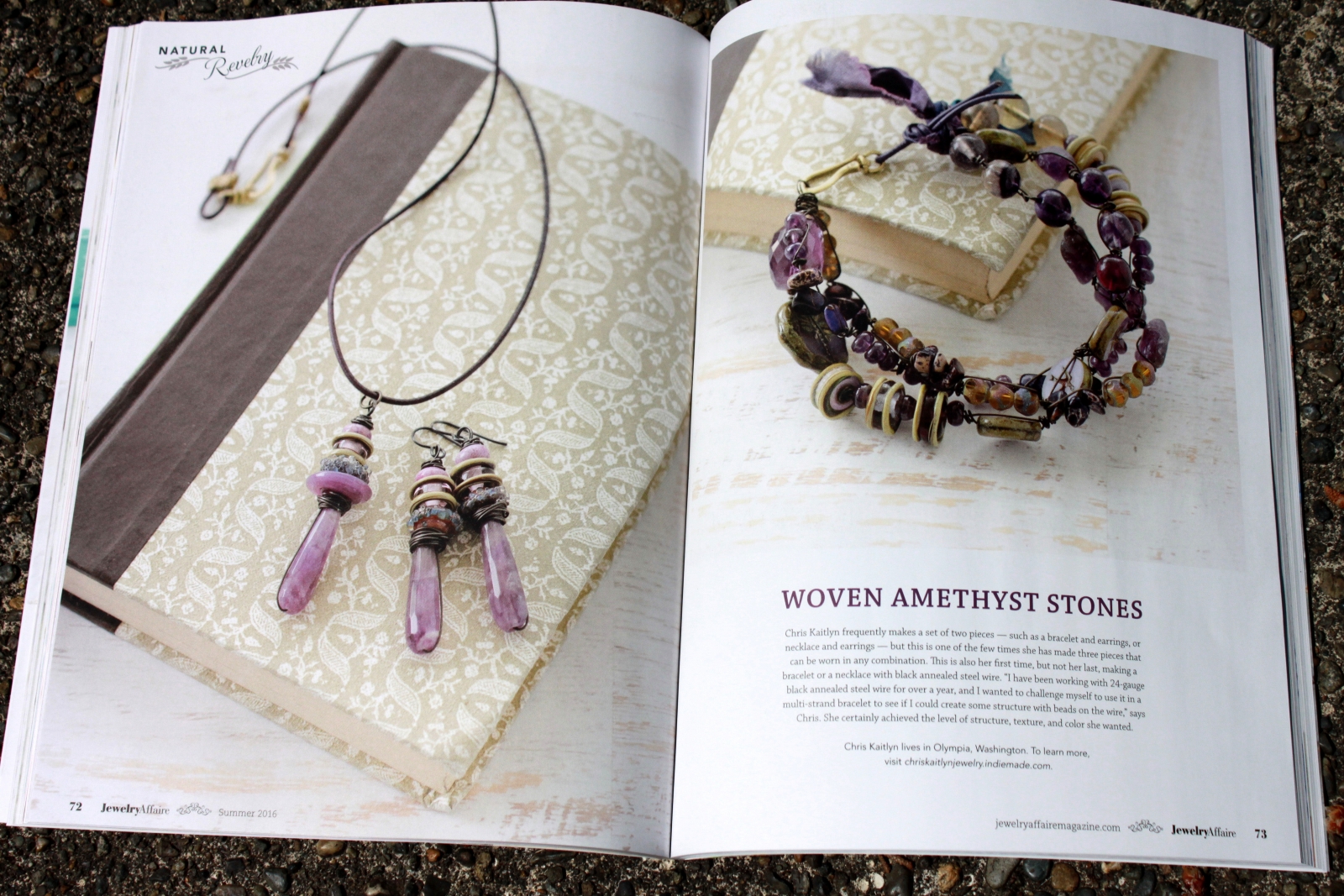 I am tickled pink to announce that an article I submitted to Stampington Publishers was accepted and printed in the Jewelry Affaire July/Aug/Sep 2016 Vol.7 Issue 2 publication. The layout is stunning with fabulous photography showing the bracelet, earrings, and necklace facing each other making a strong statement.
The jewelry contaings lots of lampwork glass by Leese Mahoney, of Glass by Leese, and Terry Turner, of SilverfishDesigns, as well as Amethyst & Fluorite Gemstones, CZ Crystals, Czech glass, purple leather, hand dyed silk, and black annealed steel wire.
I picked up a copy at the Barnes and Noble book store this past Thursday. I sat patiently at a coffee table saying to myself, "It is not going to be in here," so I wouldn't be dissapointed, as I turned each page. Why I thought this was that the Editor had moved and left her job. I didn't want to be getting my hopes up as a new editor might change the layout. But as I turned to page 72, there was my beautiful two page article! Whoo Hoo! I was so excited. I went up to the Starbucks coffee stand in the store to celebrate with a Frapichino, all the while telling the Barista and the Cashier that this was my work in the magazine! The young ladies got a kick out of my excetment as I shared the news.Then I went next door to Trader Joes to get a couple of things for the weekend and the Cashier asked how I was doing. It was pretty hard to not be excited as I got to share with her the publication. She was reading the article, looking at the pictures, and telling me of her connections with people in Tacoma and Seattle that she could show my work too...All in all it was a pretty good day I would say!!! Time to write more articles!
Have a Terrific Day!
Chris